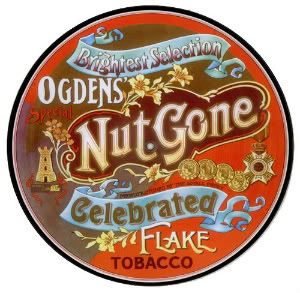 "The Small Faces were an English rock group from East London, heavily influenced by American rhythm and blues. The group was founded in 1965 by members Steve Marriott, Ronnie Lane, Kenney Jones, and Jimmy Winston (replaced by Ian McLagan).
They are best remembered as possibly one of the most acclaimed and influential mod groups of the 1960s, with hit songs such as "Itchycoo Park," "Lazy Sunday," "All Or Nothing," "Tin Soldier," and their concept album
Ogdens' Nut Gone Flake
. They later evolved into one of the UK's most successful psychedelic acts before disbanding in 1969. After the Small Faces disbanded, three of the members were joined by Ronnie Wood (guitar) and Rod Stewart (lead vocals), both from The Jeff Beck Group, and the new line-up was renamed The Faces.
Despite the fact they were together just four years, the Small Faces' musical output from the mid- to late-'60s remains among the most acclaimed British music of that era. In 1996, they were belatedly awarded the Ivor Novello Outstanding Contribution To British Music 'Lifetime Achievement' award." -Paolo Hewitt
Steve Marriott & Ronnie Lane
Rest In Peace

Download: "Jump Back" (BBC Saturday Club, '65)
Download: "Shake" (BBC Saturday Club, '66)
Download: "You Need Love" (BBC Saturday Club, '66)
Download: "All Or Nothing" (BBC Saturday Club, '66)
Download: "If I Were A Carpenter" (BBC Top Gear, '68)
Download: "Every Little Bit Hurts" (BBC Top Gear, '68)
(See Close My Eyes And Drift Away... for an additional BBC cut)

Buy: Small Faces: Ultimate Collection
Buy: All The Rage: A Riotous Romp Through Rock & Roll History